Haggis Hunter
Haggis is a traditional Scottish dish consisting of sheep and calf's offal mixed with suet, oatmeal, onions, lamb stock, rusk and seasoning boiled in a bag, usually from the sheep's stomach and simmered for approximately 3 hours. The Haggis is from Scotland's first Champion Haggis Maker based in Dingwall, Ross-shire. Once cooked, the Haggis is piped into the shell case and covered with creamed potatoes. It is then topped with swede.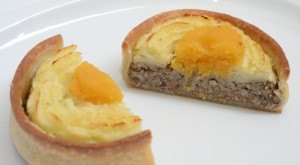 Instructions for use:  Keep frozen at -18oC. Defrost in chill for 12 hours until fully thawed. Once defrosted, bake and use within 5 days. Glaze if desired. Bake at 180oC in a preheated oven for 20 – 25 minutes to achieve a core pie temperature of at least 82oC.
Ingredients: Haggis 36% (Scotch lamb, Scotch beef, oatmeal, onion, salt & pepper, flavour enhancer E621, stabilisers E450i and E450iii), potatoes, swede, wheatflour, EU pork fat, vegetable oils, cream, salt, emulsifier E475, flavourings, colours: curcumin, annatto.