Angus Blue
This Scotch pie is made up of fine cuts of Highland Scotch Steak cooked slowly in flavoursome gravy until tender and then Strathdon Blue Cheese is crumbled in and topped by a puff pastry lid. This vegetarian blue cheese is manufactured using pasteurised cow's milk. The cheese has a firm texture with a distinctive creamy flavour. It is produced in Tain by Highland Fine Cheeses.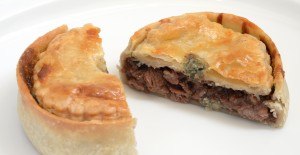 Instructions for use:  Keep frozen at -18oC. Defrost in chill for 12 hours until fully thawed. Once defrosted, bake and use within 5 days. Glaze if desired. Bake at 180oC in a preheated oven for 20 – 25 minutes to achieve a core pie temperature of at least 82oC.
Ingredients: Scotch beef steak 52%, wheatflour, Scottish Strathdon blue cheese 7.5%, EU pork fat, thickener (potato starch, maltodextrin, vegetable oil, salt, dried onion, flavouring [barley], wheatflour, onion extract, yeast extract, glucose syrup, dried tomato, natural flavourings [celery], dried herbs, colour E150c, sugar, flavour enhancers E621, E634, E635, emulsifier E322 [soya], spice & herb extracts) , vegetable oils, salt, emulsifier E471.