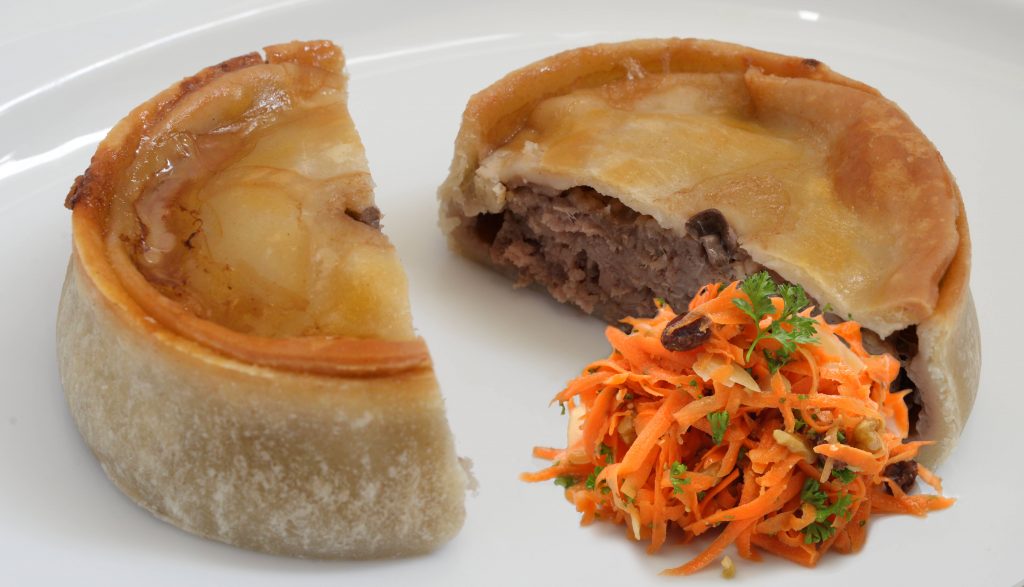 Bonnie Scotch
The Bonnie Scotch is our award winning pie in the 2013, 2015 and 2017 World Scotch Pie Championships.
It is made from a hot water crust case, a cold water lid and consists primarily of Scotch Minced Beef, which is sourced from local selected farms. Before making the pie, the meat is matured for around 14 days for the stewing and minced cuts. The roast and steak cuts require an additional week of maturing to ensure the perfect combination of tenderness and flavour.
Only prime cattle are used which means only steers and heifers under 30 months of age. Our minced beef is slowly cooked in stock combined with our secret recipe of a lightly spiced gravy mix. The result is a lovely tender, flavoursome and rich filling which is encased in a thin and crisp case.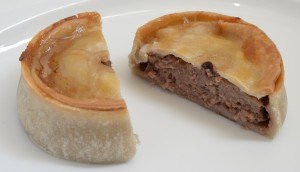 Instructions for use:  Keep frozen at -18oC. Defrost in chill for 12 hours until fully thawed. Once defrosted, bake and use within 5 days. Glaze if desired. Bake at 180oC in a preheated oven for 20 – 25 minutes to achieve a core pie temperature of at least 82oC.
Ingredients: Wheatflour, Scotch beef steak mince 39%, EU pork fat, vegetable oils, salt, white pepper, emulsifier E471.